About the RG DevOps Performance Working Group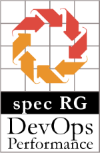 DevOps is an emerging principle for engineering and operating software systems. It aims for increasing the rate and velocity of releasing new software versions, which is, for instance, achieved by a high degree of automation and by integrating development and operations responsibilities. DevOps imposes immense challenges for quality assurance, e.g., with respect to performance and related attributes. Key reasons are that respective activities are constrained by time and that the environment in which a software system is running is ever changing. On the other hand, DevOps provides great opportunities, because the integration between development and operations allows for a high degree of automation as well as a streamlined collection and analytics of performance data.
The RG DevOps Performance Working Group is a forum for individuals and organizations interested in the interplay of DevOps and performance engineering.
The mission of the working group is to consolidate concepts and tools to better integrate these activities.
Its membership body currently includes representatives of fortiss GmbH, Concordia University, Imperial College London, Kiel University, Karlsruhe Institute of Technology, NovaTec Consulting GmbH, University of Alberta, University of Stuttgart, and University of Würzburg.