About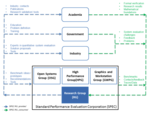 The SPEC Research Group (RG) is a group within the Standard Performance Evaluation Corporation (SPEC) established to serve as a platform for collaborative research efforts in the area of quantitative system evaluation and analysis, fostering the interaction between industry and academia in the field.
The scope of the group includes computer benchmarking, performance evaluation, and experimental system analysis in general, considering both classical performance metrics such as response time, throughput, scalability and efficiency, as well as other non-functional system properties included under the term dependability, e.g., availability, reliability, and security.
The conducted research efforts span the design of metrics for system evaluation as well as the development of methodologies, techniques and tools for measurement, load testing, profiling, workload characterization, dependability and efficiency evaluation of computing systems.
Latest News
For more news see list of all news and press releases.