Registration opened (free) for ICPE 2022, conference included in CORE 2021 ranking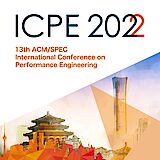 Friday, March 11, 2022 00:00
Conference program is already available online.
ICPE ranked in CORE
The ACM/SPEC International Conference on Performance Engineering was included in the CORE 2021 conference ranking with rank B.
The CORE Conference Ranking provides assessments of major conferences in the computing disciplines. The rankings are managed by the CORE Executive Committee, with periodic rounds for submission of requests for addition or reranking of conferences.

— From CORE Rankings Portal
ICPE 2022 registration open
Registration is free and open for the 13th ACM/SPEC International Conference on Performance Engineering (ICPE) at https://icpe2022.spec.org/registration/.
In light of ongoing developments with rising COVID-19 case numbers all over the world, the appearance of new virus variants, and ongoing travel restrictions the International Conference on Performance Engineering (ICPE) 2022 Organization Committee decided to go full virtual. Attendees will be able to participate virtually in the conference similar to the experience from the previous full virtual editions.
More information about this year's conference program can be found at https://icpe2022.spec.org/.
About ICPE
The International Conference on Performance Engineering (ICPE) originated 13 years ago from the fusion of an ACM workshop on software and performance and a SPEC workshop focused on benchmarking and performance evaluation. The goal of ICPE is to integrate theory and practice in the field of performance engineering by providing a forum for sharing ideas and experiences between industry and academia. Nowadays, complex systems of all types, like Web-based systems, data centers and cloud infrastructures, social networks, peer-to-peer, mobile and wireless systems, cyber-physical systems, the Internet of Things, real-time and embedded systems, have increasingly distributed and dynamic system architectures that provide high flexibility, however, also increase the complexity of managing end-to-end application performance.
ICPE brings together researchers and industry practitioners to share and present their experiences, discuss challenges, and report state-of-the-art and in-progress research on performance engineering of software and systems, including performance measurement, modeling, benchmark design, and run-time performance management. The focus is both on classical metrics such as response time, throughput, resource utilization, and (energy) efficiency, as well as on the relationship of such metrics to other system properties including but not limited to scalability, elasticity, availability, reliability, and security.